The cherry blossom is often seen as a reminder of both the beauty and fragility of life. It's short-lived splendour has been an inspiration for centuries. In this way, the cherry blossom has become timeless.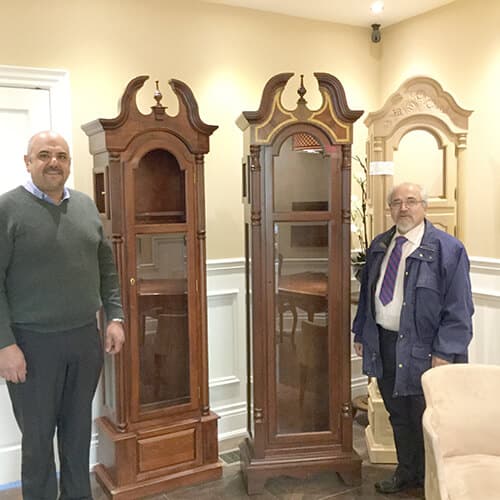 In the world of jewellery and timepieces, we have our own versions of timelessness. For over 3 centuries, "grandfather clocks" have graced homes and businesses. They are properly called "longcase clocks" and originate from the designs of William Clement, a British clockmaker starting around the year 1680. The name "grandfather clock" comes from a popular song from 1876 called "My Grandfather's Clock", written by American songwriter Henry Clay Work. His song was inspired by the story of a longcase clock at The George Hotel in Yorkshire, England. After the death of the first owner, the clock no longer kept time accurately and after the death of the second owner, it stopped working completely.
At Steadmans, we continue to sell grandfather clocks. Their elegance and ornamentation make them sought after for their decorative value. There is only one company in North American that still manufactures handmade grandfather clocks using traditional methods. They're located in Toronto and they make one-of-a kind grandfather and mantel clocks for us.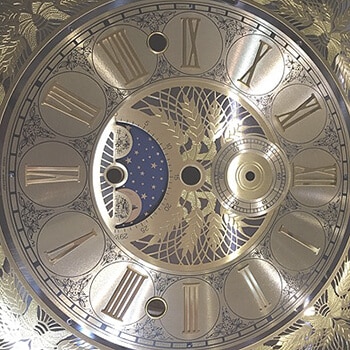 We are pleased to showcase this particular clock as the case is made using solid cherry wood which comes from Niagara. Because of our local climate and soil, Niagara produces some of the finest cherry wood in the world. Three coats of sealers and five coats of hand-rubbed lacquers are applied to the case to give the clock a very rich appearance and long lasting finish.
The clock's face is German made from solid brass. Each number is cut and applied separately. Inside, the clock's movement is German made, featuring 6 bronze bushings, milled ratchet wheels and an upgraded gearing system to extend the life expectancy of the clock. Three different melodies are available with the movement, as well as an optional silent mode. Taking over 40 hours to produce, this grandfather clock will last for many generations.
If you're looking to add some timeless beauty to your home, give us a call!