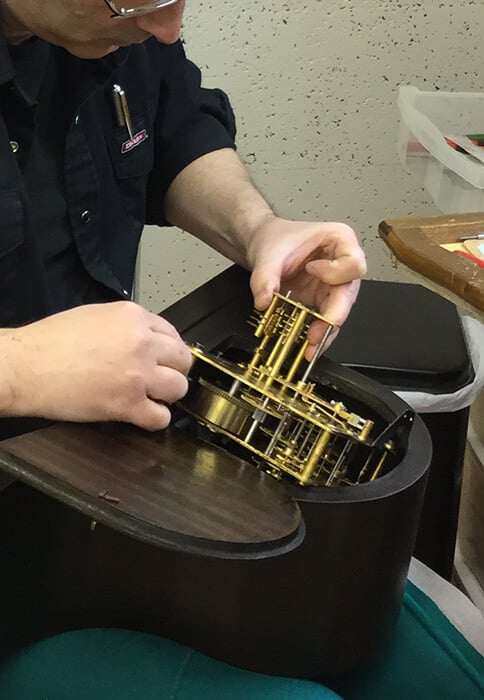 Have you met our new watchmaker Raymond Belanger? He's been a busy fellow since he started with us at Steadman Jewellers. It's for good reason though. Now that people know where to go for quality clock and watch repairs, he's turned into a bit of a superstar at the shop. We're worried he might get mobbed on the street, so we've kept his face concealed 😉
Raymond graduated from George Brown College's watch technician program waaay back in 1990. We know – he doesn't look that old. He has over 25 years of experience repairing antique and more modern clocks of all shapes and sizes. From mantle and wall clocks to the venerable, multi-generational grandfather clocks, Ray's worked on them all.
In addition to larger clocks, Ray's days are focused on repair and restoration of watches. While Ken, Kirsten and the rest of the Steadman staff are quite capable when it comes to strap replacement and repair and new watch battery installations, Ray's the guy we've called upon for years when we've had internal issues with mechanical watches. Have a Rolex or Omega sitting in a drawer because it's not been working for years? Bring it in and Ray will be happy to have a look at it.
Just give him a call (905-227-5412) to ask him about your cherished timepiece, or come into the store and meet him in person. A bonus: you'll be one of only a few who will recognize this talented artisan!